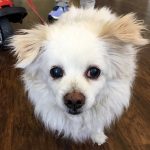 Joyce is 86-years-young and in her career days was as an interpreter, translating in seven different languages. Today, she's joined at the hip with her 15-year-old faithful companion, Snowy Biscuit. Joyce says "he keeps me going--he's my life!"
Recently, Snowy B. was suffering from chronic urinary tract issues. Joyce took him to a local vet clinic, but didn't have the $300 quoted for diagnostic testing. Luckily, another client there overhead her conversation about lack of finances and encouraged her to contact us.
Joyce enrolled Snowy B. at PIN, and he's now under the care of our veterinarians and staff. Unfortunately, an ultrasound revealed cancer--and the prognosis isn't good. PIN will provide palliative care to maintain a good quality of life for Snowy B. as long as possible. And, we'll be there for them both through the final goodbye.
At PIN, our commitment is to both to pets and their people. Joyce is grateful she found us. And so are we.