The Petcasso Silent Auction will prominently feature Painted Pets—fiberglass forms transformed into one-of-a-kind works of art by talented local artists. Beginning October 19th, the pets will be on public display in several locations, as well as on the Petcasso 2018 online auction site. Attendance at Petcasso is not required to bid. The auction will close during the event on November 17th.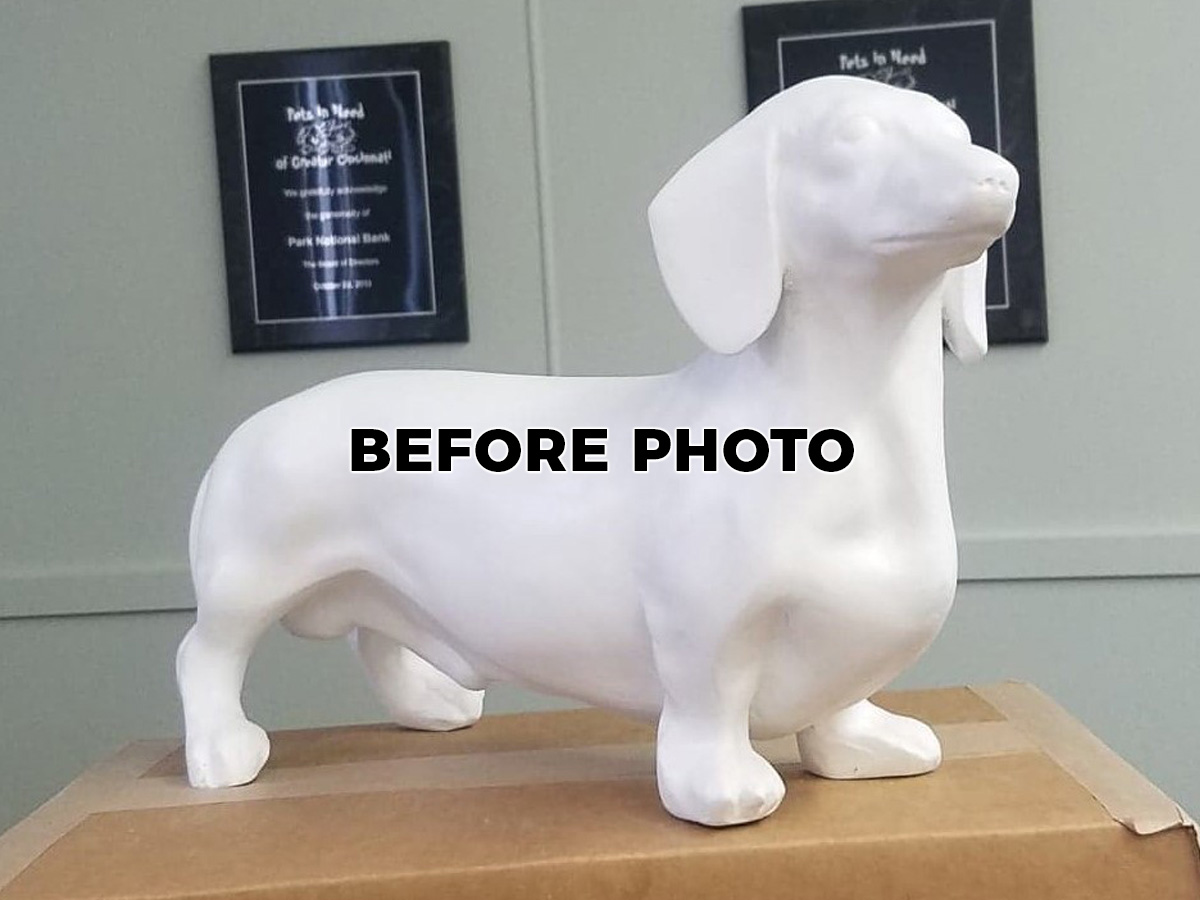 Steampunk Sophie
Susan Gertz
---
DESCRIPTION
The steampunk genre is a fun mix of Victorian elegance and steam-powered technology. Steampunk Sophie is an elegant lady dressed for an outing in a new teal brocade hat from the local milliner. She is ready to stroll by the shore and view the latest bathysphere lowered into the sea with a steam-powered winch. Sophie had better watch out though — a kraken might be lurking near the shore ready to attack the ship or even nearby pedestrians!
DIMENSIONS
20"L X 6"W X 11"H
DISPLAY LOCATION
To be determined.
ARTIST BIO
Susan Gertz is an award winning pet portrait artist whose work has been displayed both locally and nationally.  She is the owner and photographer at Dogpatch Pet Portraits studio in Middletown, Ohio. A lifelong bond with furry family members led Susan Gertz to pursue BA Zoology and MA Biology Degrees, focusing on animal behavior and to work science education nearly 30 years. As a pet photographer, Susan brings her animal experience and artistic vision together to create fine art portraits of clients' beloved pets. Susan is a proud recipient of an Ohio Top 10 Photographer Award for 2014-2017, a 2016 PPA Gold Medal Award, and was recognized as having one of the top 10 animal photographs in the nation in 2017. She is owner and photographer at Dogpatch Pet Portraits studio in Middletown.
CONTACT THE ARTIST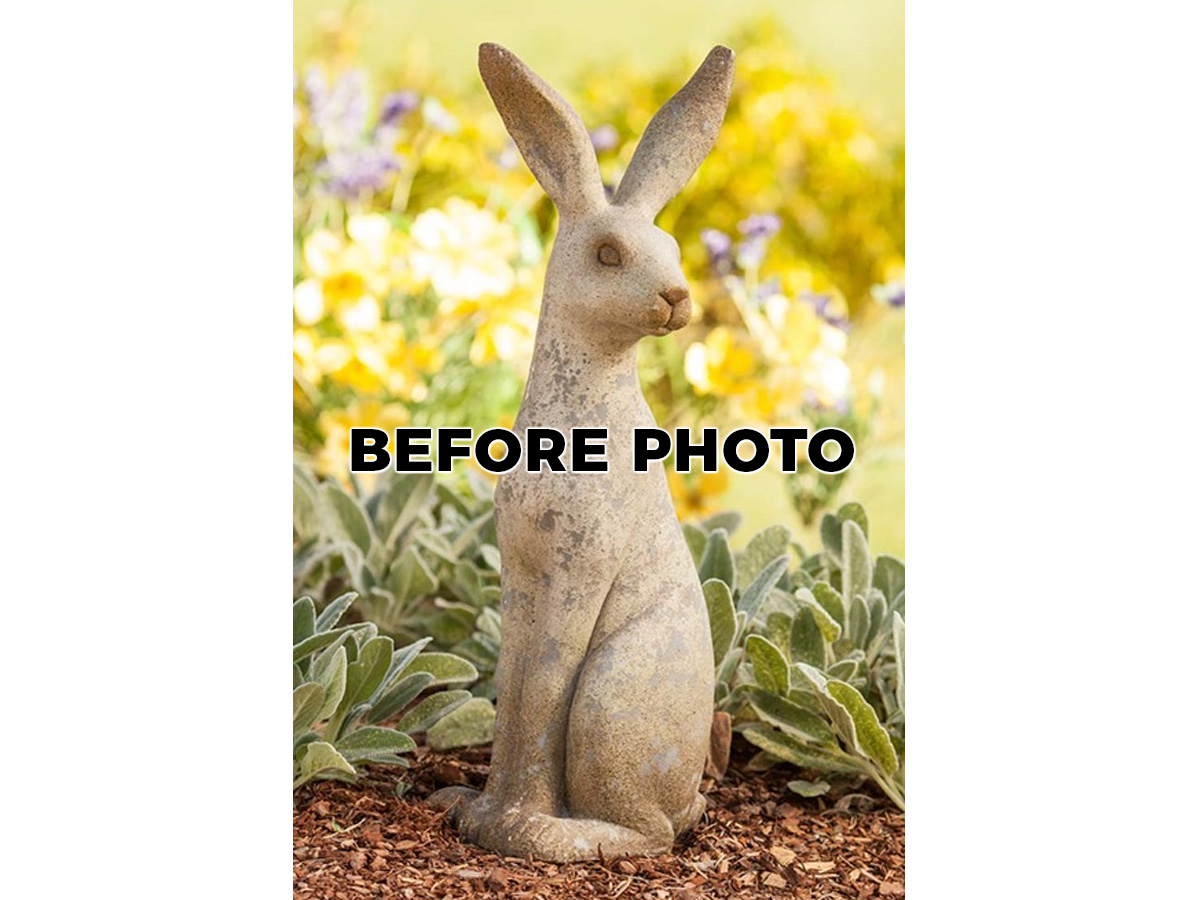 Frida Rabbit
Shannon Timura
---
DESCRIPTION
Frida Kahlo is the inspiration behind my design. Resonating strongly with many today trying to celebrate who they are despite hardships, prejudice and misunderstanding, Frida was bold and confident in her work and life. My design will feature her signature eyebrows and a floral crown. The rest of the sculpture will be painted in a colorful, Mexican-style pattern and completed with a flower necklace. P2 The colors will be deep, rich hues such as red, orange, turquoise, yellow and deep emerald green over a solid black background on the body. The face will be a soft tannish pink to show the features of the rosy cheeks, eyes and black eyebrows. An obvious Frida Kahlo-inspired piece, yet also maintaining the rabbit-like features of the animal sculpture.
DIMENSIONS
7 1/4"L X 6"W X 24"H
DISPLAY LOCATION
To be determined.
ARTIST BIO
Shannon Timura is an art director for a performing arts school and a working public artist, recently working with Olay on a public art project for their new product launch. Her art work and sculptures have been purchased by Dominion Power, St. Clair Superior Development Company and Starwood Retail Group. She loves celebrating life through art with positive images that uplift, inspire and encourage bravely facing obstacles in life.
CONTACT THE ARTIST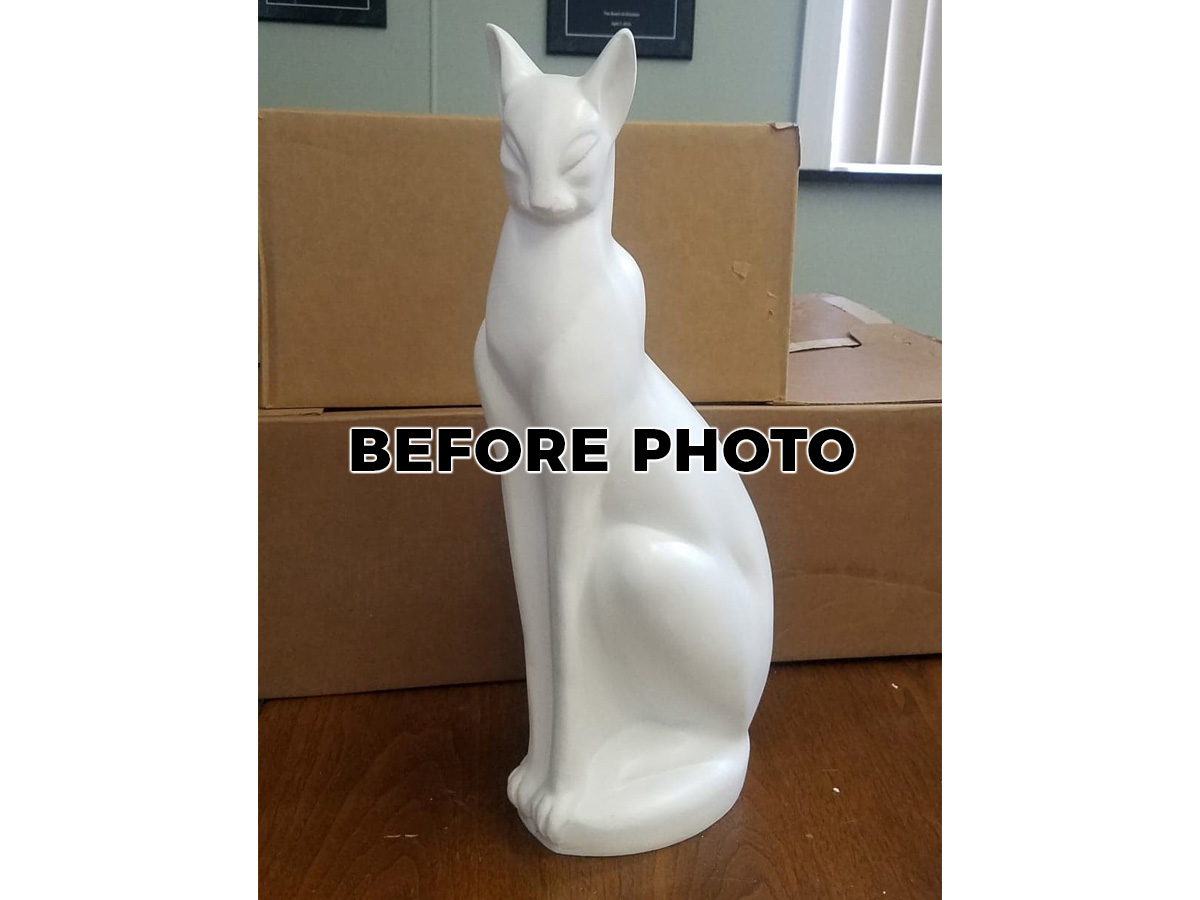 Bastet
Anne Huddleston
---
DESCRIPTION
Anne currently works as a mixed media artist using various tiles, beads and semi-precious gemstones to make one of a kind mosaic jewelry, gorgeous mosaic plexiglass flower and bird yard art and various 3-dimensional animals. She has a long career in graphic and product design in the gift industry and as an illustrator for the children's market and greeting cards, winning several local poster competitions including one for her 2016 Summerfair poster. She also lived in China while working as an art director for 32 Chinese artists for China's largest gift manufacturer. Anne's work can be purchased at a few local craft shows or at etsy.com/shop/AnneCaroleDesigns.
DIMENSIONS
11"L X 7"W X 24"H
DISPLAY LOCATION
To be determined.
ARTIST BIO
The regal bearing of the cat form inspired me, reminding me of an Egyptian Queen. I will mosaic my cat in frosted white iridescent tile for the body. For adornment, I will use shimmering gold, deep olive green, genuine turquoise and faceted Swarovski crystals for a stunning collar worthy of a goddess of her stature. ¶Bastet is the Egyptian goddess of cats, home, fire, music, dance and family. She was seen as The Sacred Cat and Egyptians placed a high regard for cats because of her. Any crimes made against cats are considered very severe and very unlucky. Bastet is one of the most well-loved goddesses especially of Lower Egypt with many temples and statues built in her honor.
CONTACT THE ARTIST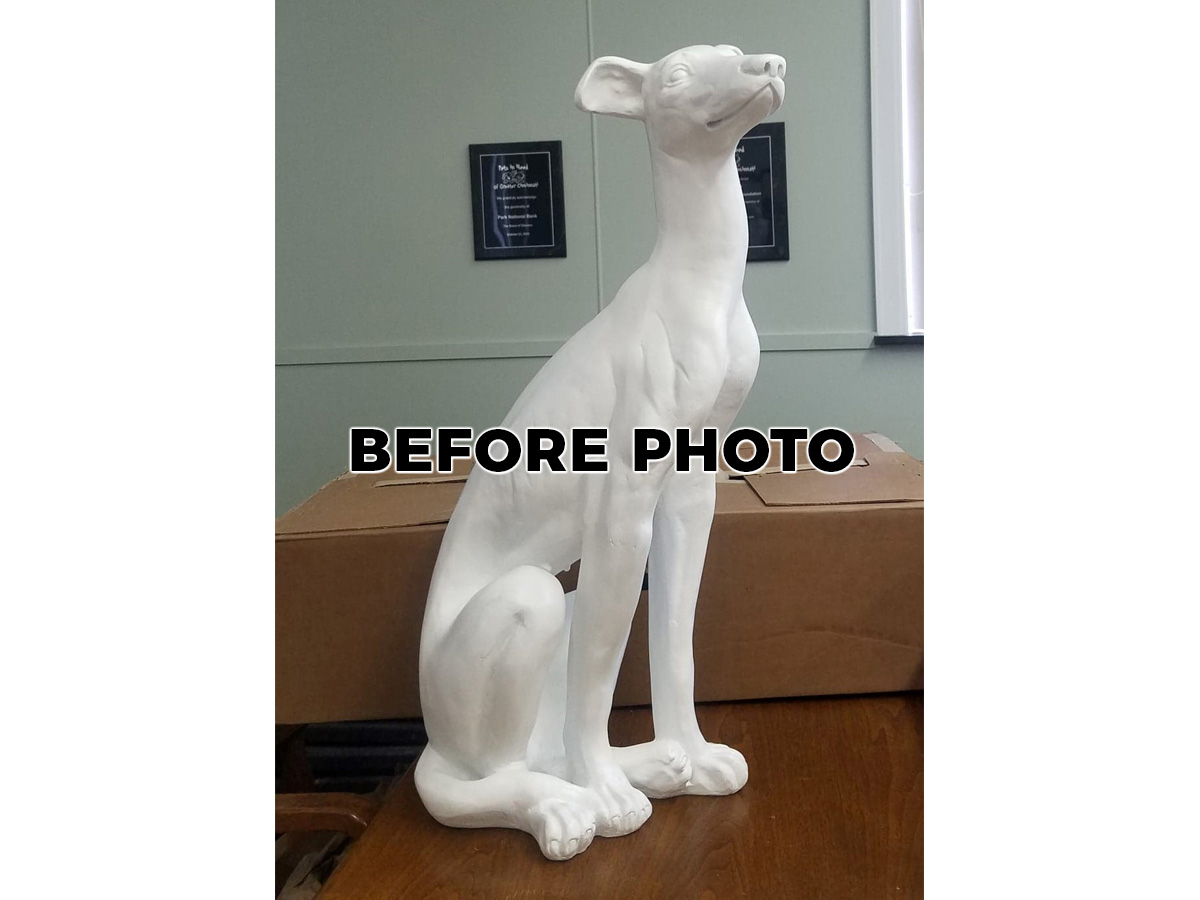 Cool Whippet
Tim Smith
---
DESCRIPTION
Picture the coolest cat (or in this case, a dog) at a jazz club. He will look like jazz sounds: smooth and improvisational. "Cool Whippet" will be a cool blue with expressive colorful accents and, of course, he will be sporting his favorite shades.
DIMENSIONS
21"L X 11"W X 35"H
DISPLAY LOCATION
To be determined.
ARTIST BIO
A 1983 graduate as Outstanding Senior of the Columbus College of Art & Design, and now, Principal + Creative Director of Tim Smith Design, Tim's career in graphic design has led to work for clients such as BMW, Microsoft, Luxottica and Tiffany & Co. His work has garnered many national, regional and local awards and has been in several leading design and business publications.  In 2008, he was named as a Fellow by the AIGA for significant contribution to raising the standards of excellence in practice and conduct, education, writing, leadership and reputation, as well as the practice of design. Tim is president of the Cincinnati/NKY Chapter of the Foundation Fighting Blindness and a member of the Cincinnati Art Club. He enjoys painting, photography, travel and time spent with his wife, Paula Toti, and their two adorable Shelties, Cassie and Harley.
CONTACT THE ARTIST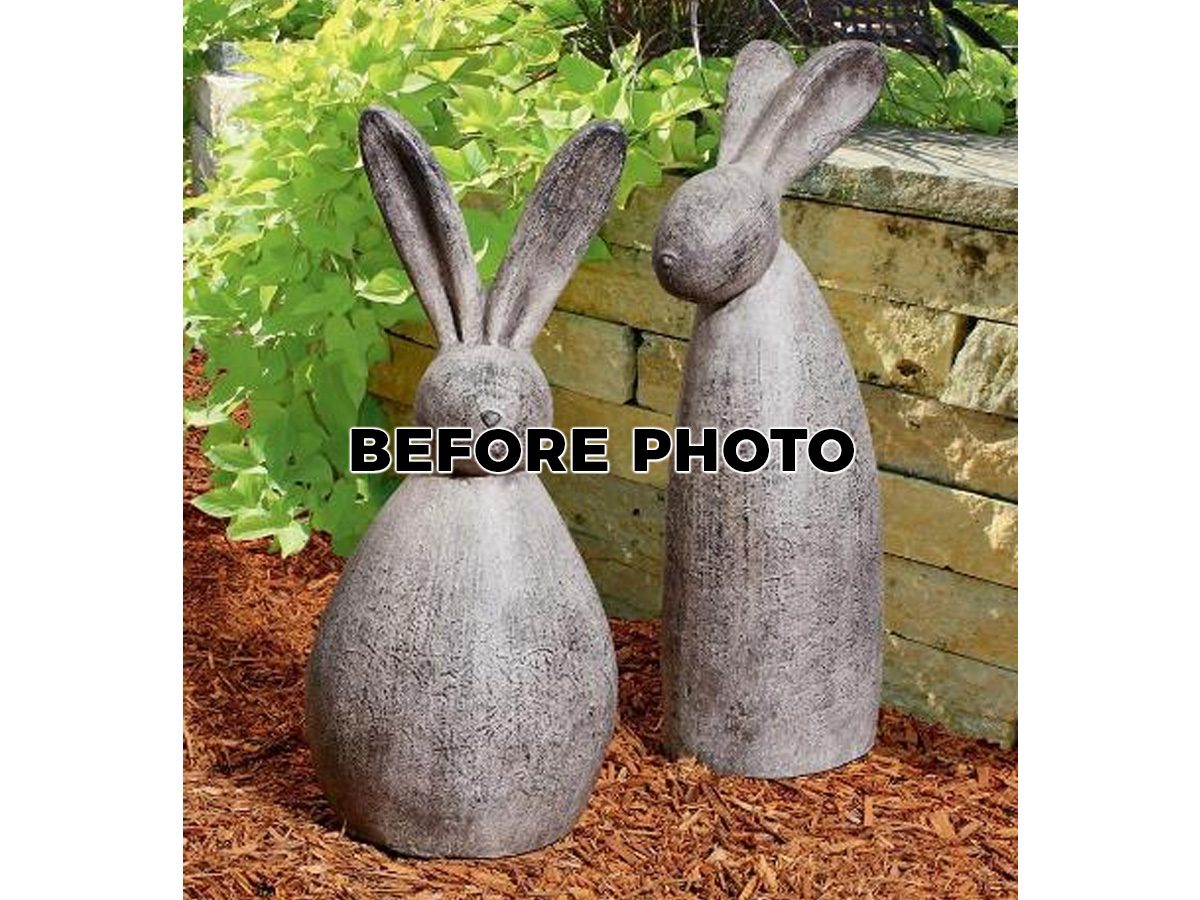 Frédéric Bonin-Pissarro
---
DESCRIPTION
Coming Soon!
DIMENSIONS
11"L x 10"W x 25 1/2"H | 8"L X 12"W X 28"H
DISPLAY LOCATION
To be determined.
ARTIST BIO
With a modern twist, Frédéric Bonin-Pissarro continues a long family tradition of fine arts, his great-grandfather being one of the original Impressionists, Camille Pissarro. Born and raised in Paris, Frédéric learned the art of painting with father Claude Bonin-Pissarro. Jean Edelmann also influenced his style. After studying in Paris at École de Sèvres and École nationale supérieure des beaux-arts, he settled in Cincinnati, Ohio. In Cincinnati, he taught color theory, character design, writing scenario, illustration, composition and layout at the Art Institute of Cincinnati and received the Key to the City in 2001. He received a B.A. and M.A., summa cum laude, from the Morehead State University in Kentucky, where he also taught. Having recently moved to Las Vegas, Nevada, he is a professor in the Art Department at UNLV.
CONTACT THE ARTIST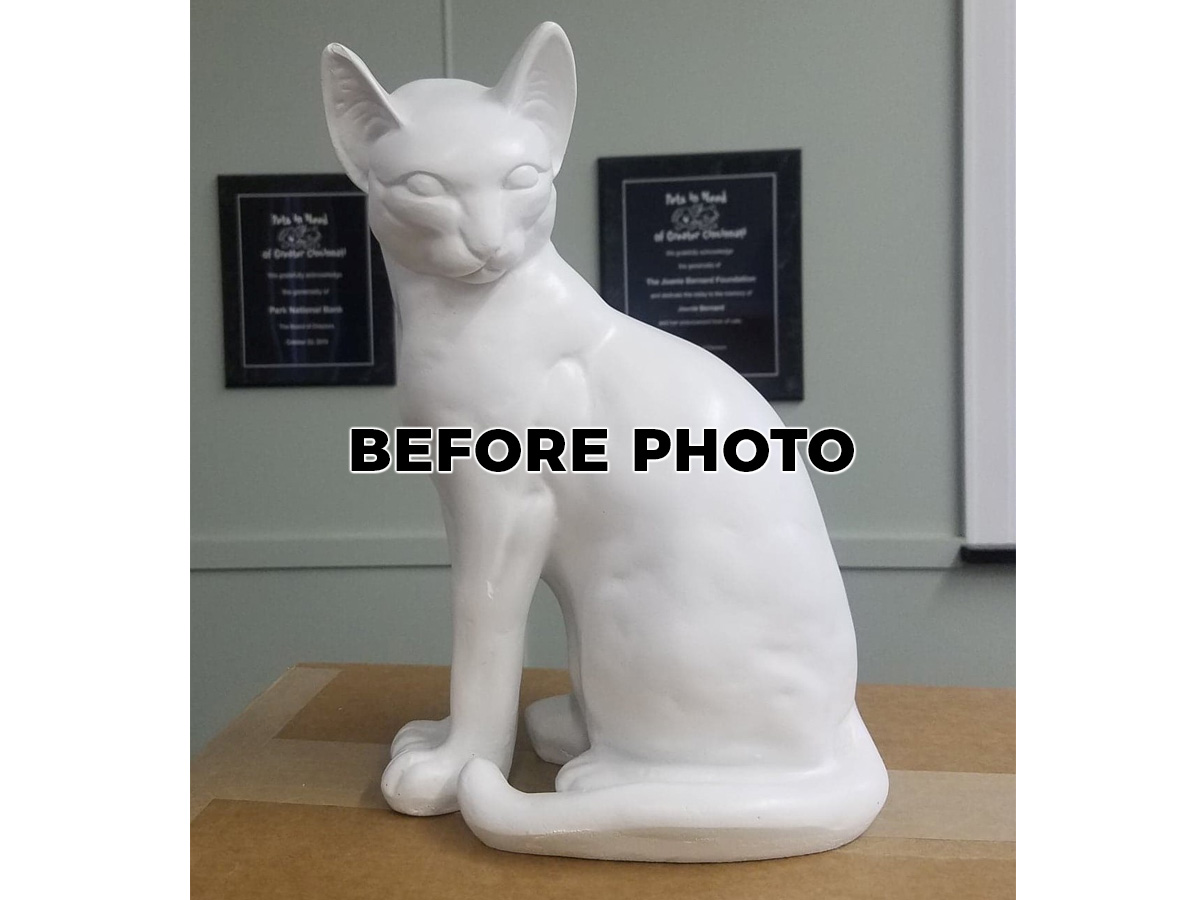 Purrsia
Joanne Honschopp Lausche
---
DESCRIPTION
My inspiration comes from a life-long love of Persian art and design. As a child visiting the art museum and later as a student at the Art Academy, I would browse the Persian room in awe. Today I am still in love with the designs and will paint the cat form using designs similar to those found on Persian Rugs.
DIMENSIONS
9"L X 6"W X13"H
DISPLAY LOCATION
To be determined.
ARTIST BIO
As a professional urban landscape painter with a studio in the Pendleton Art Center for over 20 years, Joanne Honschopp works every weekday creating Cincinnati skylines, landmarks and points of interest. An artist from the age of 3, she graduated from the Art Academy with the high honor of Wilder Scholarship for travel and study in Europe, cementing her career for years to come. Her work has been awarded numerous prizes and is recognized for her unique style. She is represented by Gallery Veronique and Bowman's Framing and Gallery. In a livelihood challenging to most, Joanne is fortunate to stay busy, spending most of her time on commissioned work.
CONTACT THE ARTIST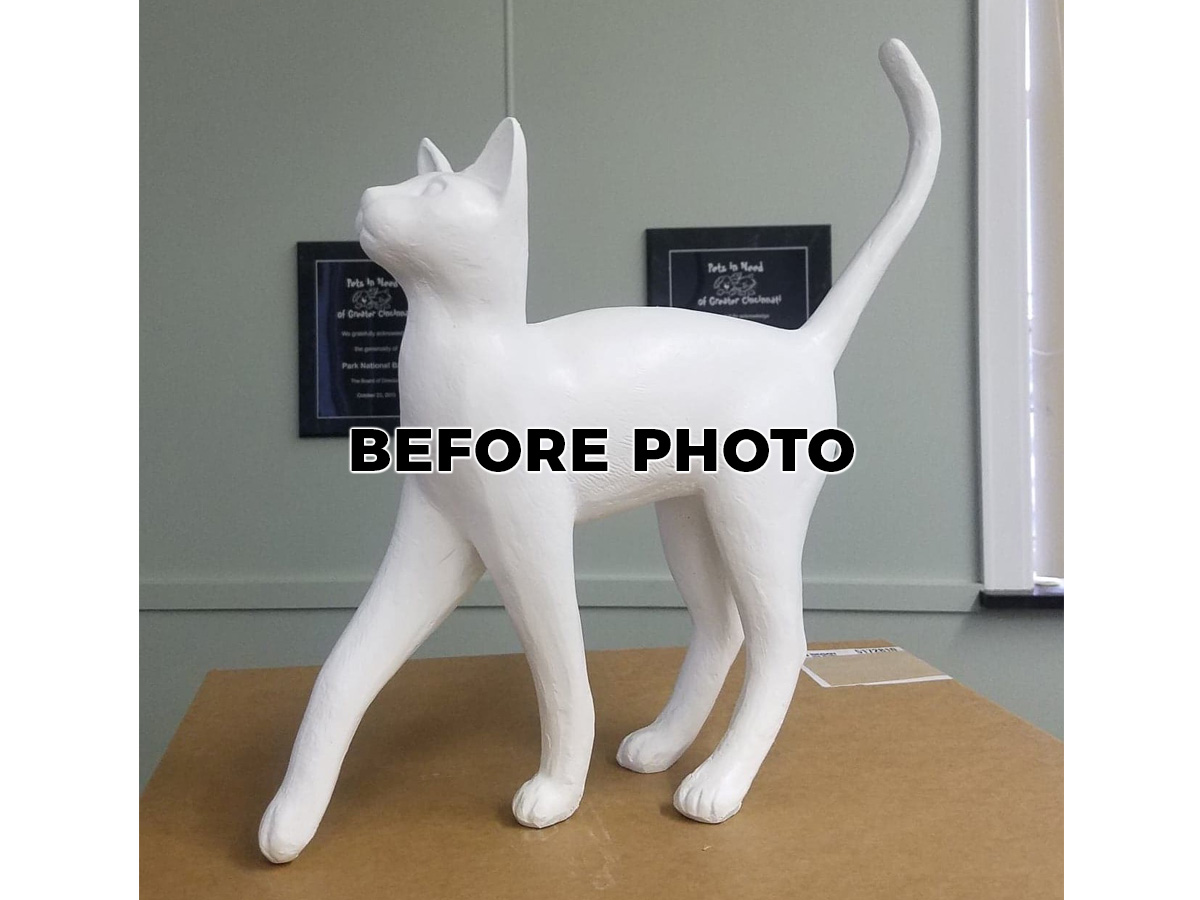 Catchuly
Diana Halligan
---
DESCRIPTION
"Cat"chuly was Inspired by the Dale Chihuly glass sculpture, "Rio Delle Torreselle" suspended from the ceiling of the Cincinnati Art Museum's main entrance lobby.
DIMENSIONS
19"L X 5"W X 14"H
DISPLAY LOCATION
To be determined.
ARTIST BIO
From an early age, Diana Halligan has drawn and painted. Originally from England, Diana pursued a nursing education which she continued when she settled in Ohio. Her interest in anatomy and drawing led her to the Art Academy of Cincinnati where she found her love of working with oils and studying the Old Masters. She continues to explore the visual arts as a freelance photographer with a focus on local musicians and as a portrait artist.
CONTACT THE ARTIST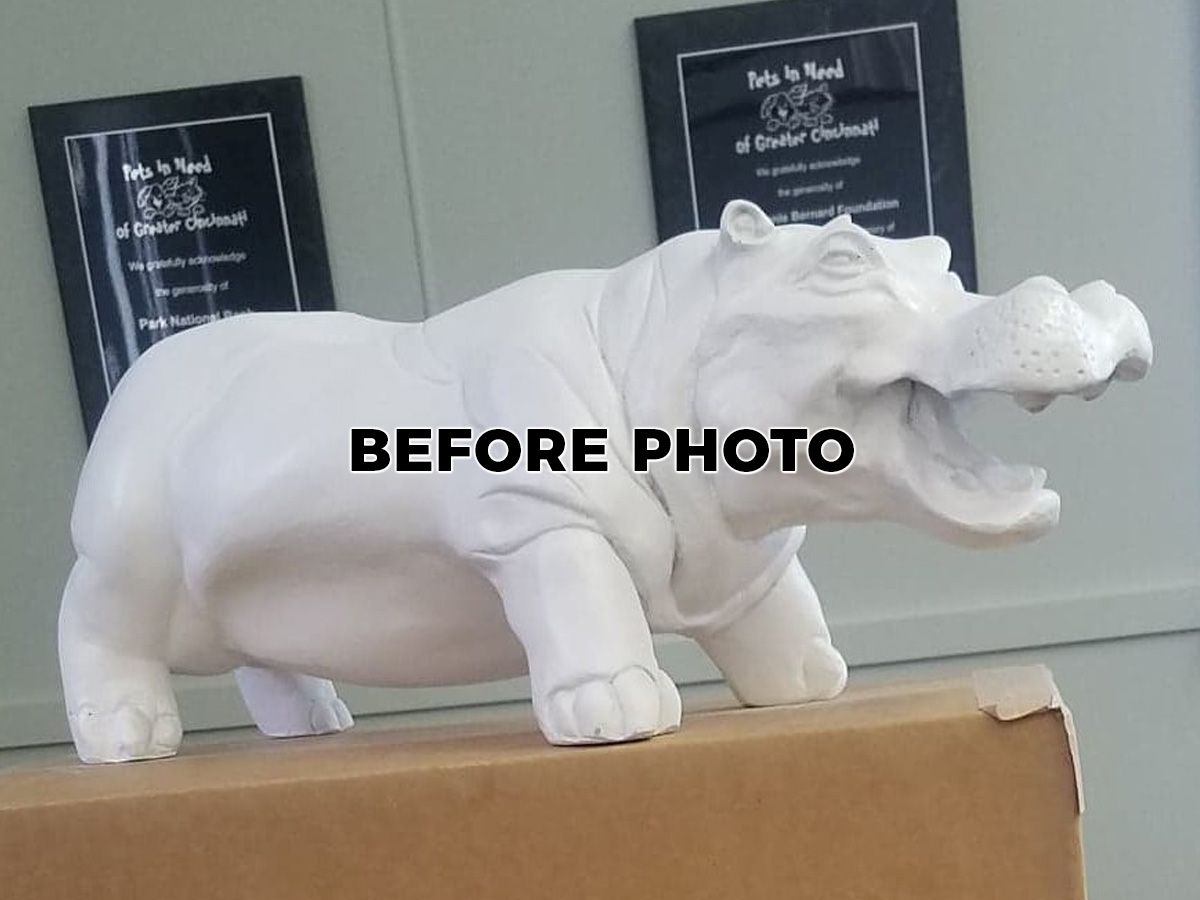 Princess Fiona
Carol MacConnell
---
DESCRIPTION
Princess Fiona is imagined from the hippo of the same name in the movie Shrek. Since we happen to have a new hippo at the Cincinnati Zoo named Fiona, it seemed like the perfect project for this hippo.
DIMENSIONS
21"L X 8"W X 8"H
DISPLAY LOCATION
To be determined.
ARTIST BIO
As a young girl growing up in rural Ohio, Carol MacConnell knew she wanted to be an artist. Her school had no art program and her family was not artistic, yet Carol earned her Bachelor of Fine Arts from Miami University and has continued to study with some of the greatest living artists in the country. Carol is a full-time professional artist, working in oil and acrylic.
CONTACT THE ARTIST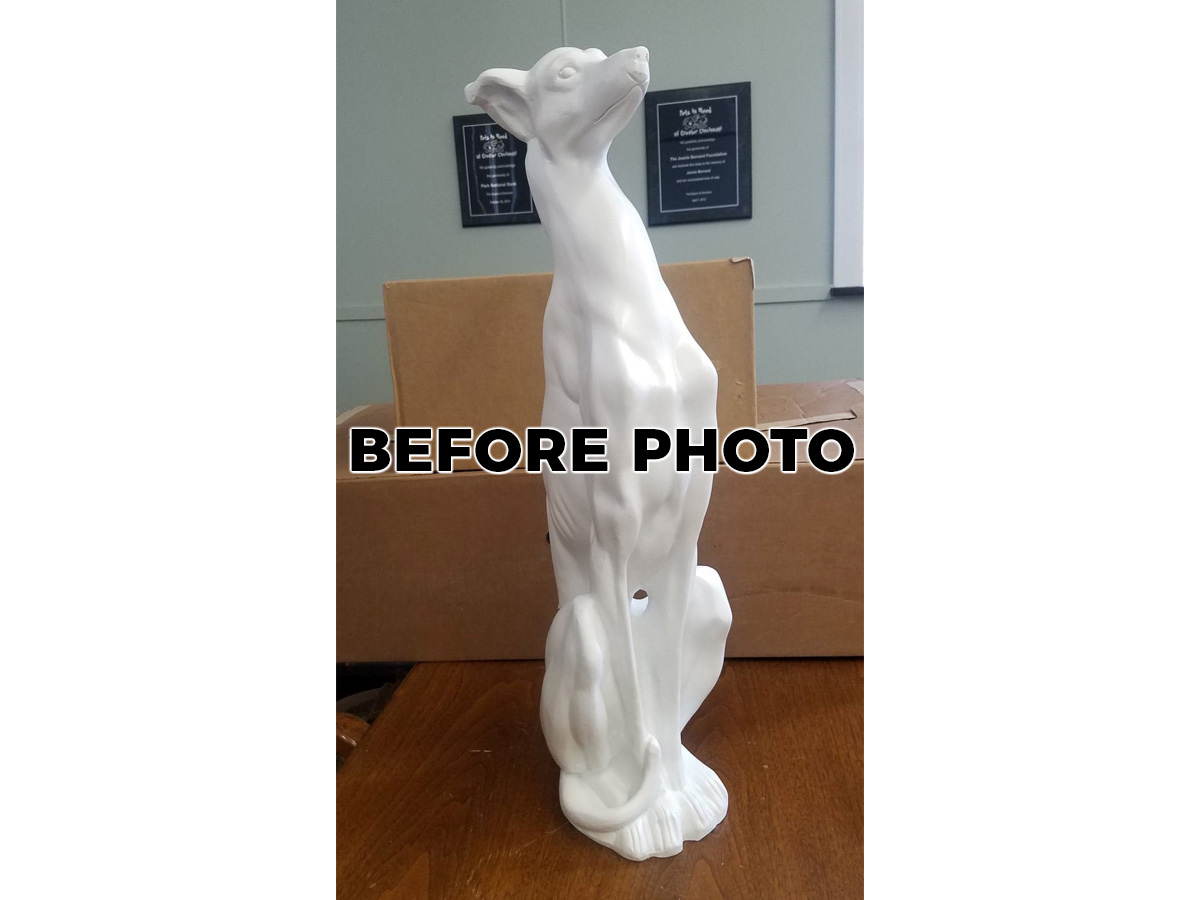 Lucy in the Sky
Carol Sanger
---
DESCRIPTION
Lucy in the Sky will be painted glossy black, varnished with a subtle glitter coating and, of course, finished with diamonds!
DIMENSIONS
8"L X 8"W X 28"H
DISPLAY LOCATION
To be determined.
ARTIST BIO
Carol Sanger retired from the corporate world in order to devote time and efforts to animal rescue. She was a co-Founder of UCAN and Westie Rescue Indiana, and former board chair of Pets in Need of Greater Cincinnati and League for Animal Welfare. Carol paints pets portraits and donates the proceeds to animal charities.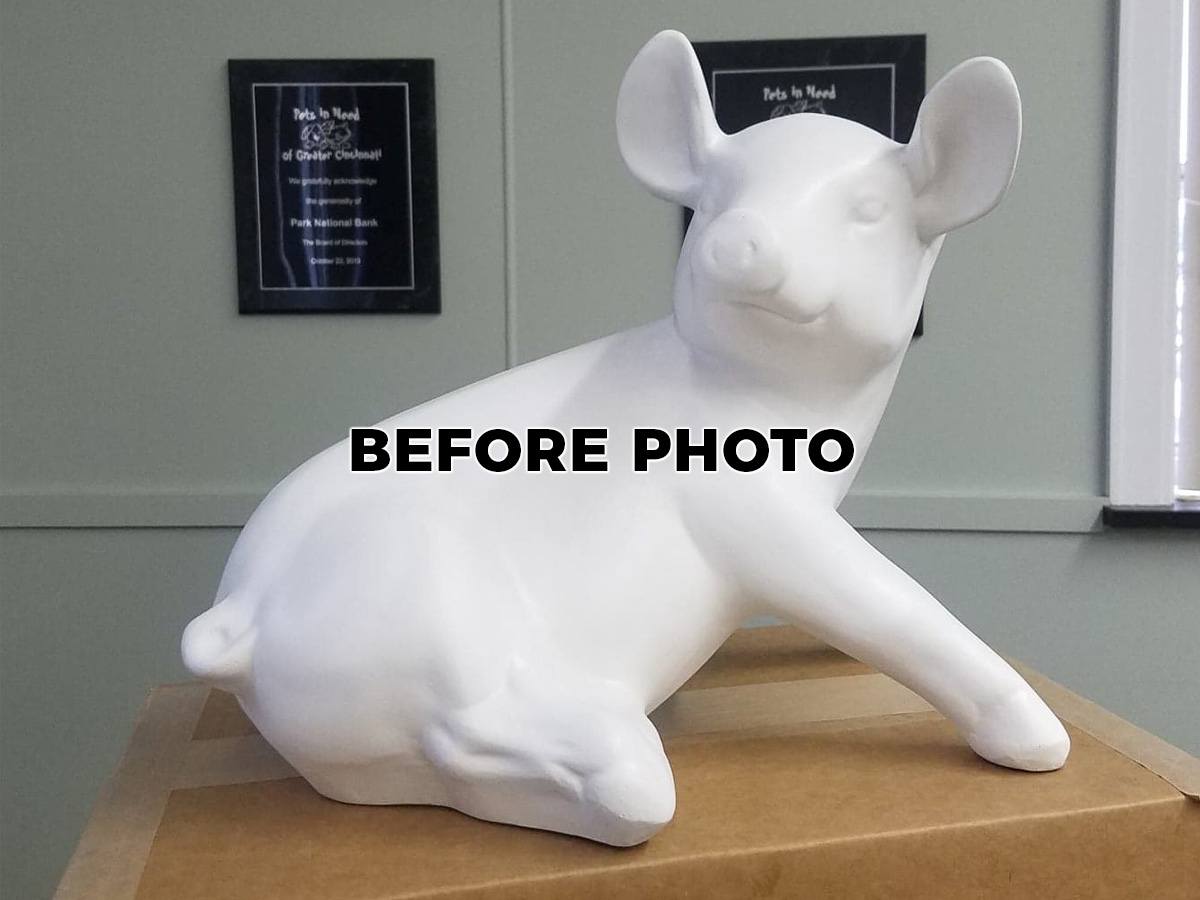 Willy Oinka
Maddie Heinlen
---
DESCRIPTION
My inspiration is from a project I did for an Earth Day event at school in which the body of a fish was a Fritos bag. Using acrylic paint, I will cover the pig with overlapping logos and wrappers of chocolate bars, candy, chips, snacks and sodas.
DIMENSIONS
17"L X 10"W X 13"H
DISPLAY LOCATION
To be determined.
ARTIST BIO
Maddie Heinlen is 16 years old and a student at Walnut Hills High School currently taking AP Studio Art at Walnut Hills High School, where she is a student. She loves art and is experienced in using a variety of art mediums. In the past year, she has received a national Scholastics Gold Key Award and had a piece accepted into the Cincinnati Art Museum Teen Art Expo.